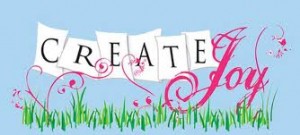 Welcome!  This week we're turning our focus from creativity and mindfulness, to joy and creativity.  
Let's talk a bit about the nature of joy.  Psychiatry professor George Vallant reminds us, "We can laugh from either joy or happiness, but we weep only from grief or joy…Without the pain of farewell, there is no joy in reunion…without the pain of captivity, we don't experience the joy of freedom."  Happiness is cognitive (a state of mind), where as joy is affective (an emotion).  Joy is the least studied of all the emotions – but that is changing with better technology and being able to look more specifically at brain function. While happiness is not joy – often we can use happiness clues to lead us to our joys.  Happiness is a choice we make. Joy appears when we are deeply moved or when we accomplish something deeply meaningful or fulfill our natures as human beings. Humanistic psychologist and classic creativity theorist Rollo May's writings link the concepts of joy, creativity, and human potential with anxiety.  Joy almost always shows up when we've overcome a challenge or worked hard to make a discovery or create something original. None of those things are easy – even when certain people feel they have 'a gift' – it does not bear fruit unless the ground is plowed and the seeds are planted and tended for a long, long time. Does this mean joy is out of reach for most of us? Absolutely not. In fact, doing something very simple – daily – can turn you into a virtual joy magnet. It required making joy and creative action a priority. You must also be willing to take baby steps in the direction of what you love – a dream, a project, something you've always felt a desire to do. By giving yourself as little as 10 minutes a day indulging in some 'positive pretending' and small actions you can see joyful syncronicities showing up where you least expected them.  A link will be provided later in this post to walk you through the process if you so desire.
"Joy, rather than happiness, is the goal of life, for joy is the emotion which accompanies our fulfilling our natures as human beings.
It is based on the experience of one's identity as being of worth and dignity."
Rollo May
Have you been practicing mindfulness for 15 minutes a day?  Are you seeing some benefits from journaling? I'd love to hear about your experiences. For me, mindfulness plus movement triggered great creative results.  Keep that in mind as you begin to explore your joys and use them to direct your creative play activities for the week ahead. Given the disaster of the earthquake and resulting trauma in Japan – we are reminded to be grateful for this moment and the blessings surrounding us – seen and unseen.   In times of emergency – we reach out to help others in our global family.  Life is precious precisely because there are no guarantees.  No one is promised a tomorrow. We have an obligation to ourselves and the world to use each day to the fullest doing what matters most to us. Joy and gratitude always appear together. It is simply impossible to feel waves of joy without being drenched in gratitude.  I invite you to reflect on what you may be taking for granted in your life right now.  Then as part of your creative actions for the coming week – reach out and make a positive difference in your world. By sharing a smile, a hug, a hand written letter, or a compliment  or encouragement – you will open doors to your own potential.
"Begin doing what you want to do now. We are not living in eternity. We have only
this moment, sparkling like a star in our hand, and melting like a snowflake."
Marie Beyon Ray
What does love have to do with it?  Decades of research led E. Paul Torrance, the man many call the father of creativity, to conclude: "One of the most powerful wellsprings of creative energy, outstanding accomplishment, and self-fulfillment seems to be falling in love with something – your dreams, your image of the future."  Harvard researcher Theresa M. Amabile's studies also show: "The best way to help people to maximize their creative potential to to allow them to do something they love."  So what is your creative dream?  What would you do if you knew you could not fail?  Part of the reason you are on this planet right now is to pursue that passion. The dream and the dreamer are always matched. You would not have your particular dream if you did not have the means – right now – to begin walking in that direction.  This is not to say the dream will turn out exactly as you imagined, but I will assure you it will lead you to the place you need to be to find joy and meaning in your life.
 Did you know dancing with joy literally builds new brain cells? 
Biologist Carla Hannaford, PhD, reports:
 "Self-initiated movement, exploration, interaction and physical experience for the joy and challenge of it, facilitates neurogenesis (nerve growth) for a lifetime."
 In her fascinating book, Smart Moves: Why Learning is Not All in Your Head, Hannaford makes it clear new brain cells (neural connections) can ONLY be grown if we're totally focused on (and enthused about) an activity.  What makes us most excited?  JOY!  Creative projects offer a great mix of challenge and joy.  If an idea gives you lots of energy – it has the potential to bring you joy.  What are you inspired to try?
Can you tell me 10 activities which bring you joy?  Before getting out of bed in the morning, spend 10 minutes thinking about what brings you deep joy. If you've never made a joy mandala, check out this link:  ActivateJoyPower .  Many people find this technique transformational. With a little practice, you can move joy into your 'top of the mind awareness'.  When that happens you'll begin attracting more and more joy.  My life is filled with joy because I use it as my GPS in life. My current 'top ten' creative joys are:  1. Zumba classes 2. Nature walks 3. Journaling 4. Making collages 5. Reading & researching 6. Being a creativity catalyst 7. Finding great quotes 8.  Creating and sharing inspiring 'tweets' on Twitter 9. Taking a trip to Ukraine with my kids 10. Latin music & dancing.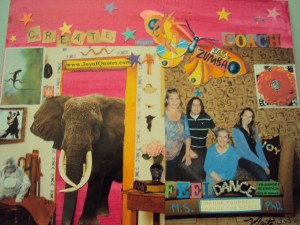 I'm happy to report I had my most creatively productive week since starting this project.  I give the credit to my joyful Zumba instructor, Tammy Davis, at Terries Workout Center in Buffalo, NY.  Her classes are sing-out-loud fun and energizing.  I love the results so much I've decided to commit to doing 40 Zumba classes (5x a week) between now and May!  If Zumba is too big of a stretch for you – commit to taking daily walks or swimming laps. It doesn't matter what you do – as long as it makes you smile and fills you with energy.
In addition to making more art, I experimented with different processes. Normally, I create my collages inside my journal, but this time I painted a canvas board hot pink and used it as my 'joy collage' base.  How many of my joys can you find?  After completing my 'joy collage painting' – I painted facing pages inside my journal and then collaged them, too!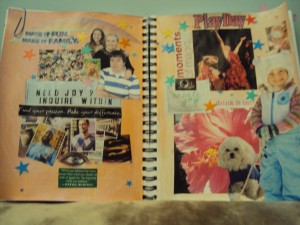 "It is the supreme art of the teacher to awaken joy in creative expression and knowledge."
Albert Einstein
Creative Prompt #1:  Think about what brings you joy and start a joy list in your journal. Spend the next few days looking for small ways to experience your 'joys'. You'll get extra brain cells for trying something new. What creative project have you been wanting to do?  What's stopping you?  
"What if imagination and art are not frosting at all, but the fountainhead of human experience?"
Rollo May
I was inspired to combine oil pastels, paint, and collage elements to this piece.  A friend e-mailed this beautiful  quote and print by visionary artist Gordon Wood.  His piece is called "Birth of Awe".  Visiting his site was a joyful experience for me.  The background is a 'scribble drawing' I did in the dark with the oil pastels. It was a fun experience. Ihighly recommend it if you are stuck in 'critical mode'. Closing your eyes, reaching for colors blindly, and drawing out emotions can be incredibly freeing.  I did it a month ago. It's just been sitting and waiting for me to get the inspiration to finish it. Last night – I worked madly until nearly 5am to finish all six art projects and this blog.  This burst of creativity came from all the connections I've been making. Reading books, coloring, clipping images, dancing, taking walks, doing things outside my comfort zone, and most of all – letting all those elements blend in the big creative cooking pot called 'incubatation.'  Inspiration comes from working at something daily – not waiting for the muse to move you.  Just do something – then relax.  Practice mindfulness, be silly and playful.  And get over your 'old stories' which sound like "…nothing sounds fun to me" or "I can't do that" or "I don't have time".  Those are all just excuses.  Change your thoughts, take action, change your world!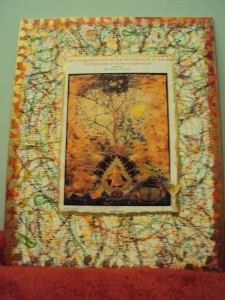 "No need to hurry. No need to sparkle. No need to be anybody by oneself."
Virginia Woolf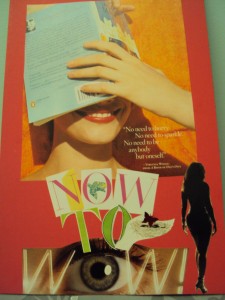 I created this 'positive self-image' collage to help me visualize my new mantra:  NOW to WOW!  It was triggered by insights I picked up from Chip and Dan Heath's book Switch (I reviewed it in last weeks' blog).  Their 'form an instant habit' prompts are working for me.  A second book which also influenced me this week was the 365 A Daily Creativity Journal.  I've been thinking about something fun I'd like to do for a year – and Zumba came up as my answer.  As mentioned earlier – I'm going to try 40 classes in 2 months first – if it's still joyful I'll commit to the 'long haul.'  What's really exciting about all these insights and art projects is this:  the mindfulness and movement combination is working like magic.   I set an intention to unlock my creative potential and stimulate personal growth and I'm really experiencing the results.  Just a month into the process, I'm genuinely excited about the possibilities.
The next image shows all the creative projects I was inspired to complete this week.  It's alot!!!! I'm happy I broke through my resistance to using acrylics and watercolor paints. I also played with Mod Podge and a variety of brushes. I let go of criticism and simply played with possibilities.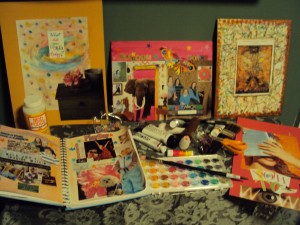 This is a crazy amount of creative expression isn't it???  I tripled my usual output.  If you are really ready to break through blocks and get into the creative 'flow' – try movement and mindfulness – with a dash of joy.  There is no way I'd do any exercise class daily (for love nor money).  But joy makes it a fun thing so it's a double win.  Your job this week is to find what turns you on in terms of creative, joyful actions.  Experiment. Play. Pay attention to your energy.  All this information will point you in the direction you need to go.
Creative Prompt #2:  Play with paints – buy a tube of white acrylic and another color that feels joyful (I picked magenta and bronze). Now flip through magazines, keeping your eyes open for images and words which catch your attention. Tear them out and keep them in a big envelope until you have enough to create a collage. Think about adding in collage 'scraps' – things like receipts, ticket stubs, or ideas scribbled on bits of paper make interesting additions. You can even Google a topic and find images to use – simply right click on an image, and do 'save as'.  Stretch yourself.   There is no one grading you on your work. Just make a personal statement.
"Even without success, creative persons find joy in a job well done. Learning for its own sake is rewarding."
Mihaly Csikszentmihalyi
Creative Prompt #3:  Basic – buy a coloring book (they have a great selection at Target starting at just $1!) Coloring will get you relaxed.  It's a non-threatening way to get your feel in the creative waters.  Color mindfully. Have fun with it! Advanced – create a coloring book.  Sit for a few minutes in silence, or take a 15 minute discovery walk and jot down  ideas which pop up, and start drawing.  A good book for drawing prompts is: The Confident Creative…Drawing to Free the Hand and Mind by Cat Bennett.  Cat suggests starting an artist's sketchbook as a way of documenting your journey into deeper creativity. If you are interested in this topic, it's a book worth having.
"Joy does not simply happen to us. We have to choose joy and keep choosing it every day."
Henri Nouwen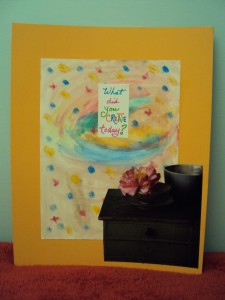 This is my first watercolor in ages.  I played with colors and swirls and then decided to place my new 'creativity button prototype' in the center.  It's very much simpler (less cluttered) than my usual collages.  I used a mat board backing which ended up warping a bit. Oh well.  It's not my favorite – but this blog is my record of all the pieces I produce week to week – so here it is!
"Movement is a medicine for creating change in a person's physical, emotional, and mental states."
Carol Welch
My dear friend Ann (shown below)  developed a practice she calls 'gratitude dancing.'  She dances her joy on Siesta Key beach in Sarasota, Florida, to the delight of passers by.  Her creative actions have stimulated wonderful ideas and connections.  If you'd like to give spontaneous dancing a try – this Friday, March 18th at noon is the perfect time!  It just happens to be global:  'Dance Anywhere You Are' day.  For details visit:  www.danceanywhere.org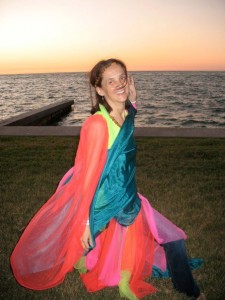 "True joy is that which gives us more energy and makes us feel more alive."
Robert Puryear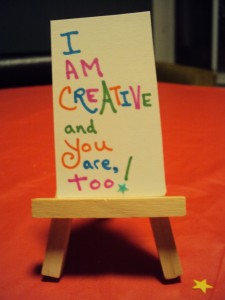 I am thinking of creating a pin with this message. What do you think?  Do you prefer this message or the one which asks "What did you create today?"  Your feedback is important to me.  Please leave a comment.  I got my new FLIP camera, but can't get it to work, so hopefully I'll be able to debut a video next week.  I also want to report my Arthur Murray (dreaded) dance lesson was actually fantastically fun!  Thank you Myron – my cha-cha master at the Buffalo Arthur Murray Studio on Bailley.  Our hour together was pure pleasure.  I appreciate your patience and your affirming comments about my 'club style' dancing abilities.  Yea!
If you'd like to share art you've created on this blog, send it to magicalmarta@aol.com  Visit www.JoyofQuotes.com for our complete selection of creativity, risk, courage, and self-expression quotes.  The world is waiting for your unique contribution – that's why it's important to find your joy!  Create a wonderful week!
Marta Davidovich Ockuly
(Dancing with joy!)